So what's with all the rave about the Panasonic TOUGHBOOK?
The legendary fully rugged Panasonic TOUGHBOOK is no doubt the crown of rugged laptops. No wonder it's the favorite laptop for the military, law enforcement, fire fighters and paramedics all around the world. What makes the fully rugged TOUGHBOOK unique is not only the fact that it's almost indestructible, but also the impressive engineering for best performance and durability. Equipped with top-of-the-line internals from the main board, the Intel processor, and some of the best wireless modules in the market for a stable and strong signal. Have we mentioned the good looks?
Yes, it's all that.. and some more
See for yourself what a TOUGHBOOK goes through at the headquarters in Japan before qualifying to hit the market:

LEADING THE RUGGED COMPUTING INDUSTRY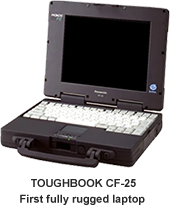 The Panasonic TOUGHBOOK made the scene in 1996 with the introduction of the fully rugged CF-25 that dazzled the toughest computer critics and users alike. A concept that lead to today's full range of ruggedized and highly reliable laptops, with a failure ratio under 2% versus 20% for the average laptop. That's TEN TIMES the reliability. Think what that could mean to you and your business; less headaches, less delays and repairs, and more productivity. You focus on your job and TOUGHBOOK will take care of the computing (and surviving) part!
This marvelous piece of equipment made the headlines all around the world since, and still going strong today.
Move forward to 2023 and you will see how that concept had not only inspired the biggest actors in the computer industry, but it has evolved into a full line of highly-modular customizable fully ruggedized laptops with more added features than ever!

For one, the Panasonic TOUGHBOOK CF-33 is the first 2-in-1 fully-rugged tablet convertible on the planet. A genius and thoughtful design by Panasonic that left nothing to desire in a work-ready laptop. From the sleek design and the ability to "undock" the top part turning it into a rugged light-weight tablet, to the optional 2nd battery for demanding on-site operations, to all kinds of connectivity features enabling you to connect to your favorite devices, add security features like a fingerprint reader or a touchless security card scanner and much more. Sporting a high-resolution 12" ultra-bright screen with multi-touch function using a digitizer stylus or your fingers (gloved or not), a powerful Intel Core i5 (optional i7), a non-intrusive backlit keyboard, this laptop has got it all.

FOR HOME & OFFICE
And for those of us who are looking for TOUGHBOOK's reliability & durability, but really have no use for this much ruggedness, there's something for you as well.
The Panasonic business-rugged (or semi-rugged) series is designed specifically for rough handling of a laptop in office environment, or for those who are on the road frequently. While not as rugged, they share the same quality components and thoughtful ergonomic design with their fully-rugged family. Attractive looks, bright screen, shock and drop resistant, water resistant, security features like a fingerprint reader, are some of the features business-rugged TOUGHBOOKS share with the fully-rugged ones. Take for example the Business-Rugged TOUGHBOOK CF-54 with it's slim design, ultra-bright 14" high-resolution widescreen, shock-mounted hard drive, durable handle, strong joints, and a sturdy magnesium-alloy casing. This model will offer you the best of both worlds with stress-free mobile computing.
That's all nice and dandy until we look at the price tag. Definitely not for the average consumer. A fully rugged mid-range TOUGHBOOK starts at around $3,000 to $8,000+ USD for a loaded one depending on added features and configuration, and oh boy the amount of features and add-ons to choose from can make a good list, such as:
Pressure-sensitive touchscreen
4G/LTE cellular connectivity
Fingerprint scanner
Integrated GPS module
Security card reader
Stealth mode
and more!
At this price range, it's fair to say that only large corporations and government agencies can afford a fully loaded TOUGHBOOK.
But luckily, some TOUGHBOOK enthusiasts like the team behind Outdoor Laptops took it upon themselves and made it their mission to make this marvelous laptop available to the general public at a fraction of the original price. We are one of the pioneers in aftermarket TOUGHBOOK sales, starting in 2011 and growing with every new TOUGHBOOK model. While the laptops offered aftermarket (previously owned and seller-refurbished) are not exactly the latest models, they are often just one generation behind and would still offer a great value for the money. After all, the TOUGHBOOK is built to last!
For example, one of the latest additions to our TOUGHBOOK family is the fully rugged 12" tablet-convertible TOUGHBOOK 33 which sports a powerful 7th generation Intel Core i5 (or Core i7 as an upgrade) processor and up to 16GB of RAM and 2TB of SSD storage with the option for another 2TB of secondary storage. This laptop can definitely handle more than the average laptop can. Another example would be the business rugged 14" TOUGHBOOK 54 with its sleek, slim design and larger 14" widescreen, lighter weight and an optional second battery that replaces the DVD drive. This is all in addition to the same under-the-hood configuration found in the 12" tablet-convertible TOUGHBOOK 33
Feel free to contact us with any questions about the TOUGHBOOK. Our client care representatives are well-versed and love to talk TOUGHBOOK